Posts: 5
Joined: Tue Feb 28, 2012 12:50 pm
Status: Offline
do suburban bucks hold thier antlers longer? What is the longest anyone has seen bucks w/ antlers? I went out the other day where i know there are some big bucks and found a small spike horn. found lots of rubs ,trails and a couple beds but nothing. found spike in open field.
500 Club
Posts: 1197
Joined: Mon Mar 15, 2010 3:58 am
Location: Northern Michigan
Status: Offline
I don't think the sub-urban bucks will hold any longer than any other deer....how long they hold them is a mystery at best. I have found sheds in December and have seen deer still holding in April. I think a lot of the serious shed hunters look to the 2nd week of march to begin the serious shed hunting season
Moderator
Posts: 18591
Joined: Tue Aug 09, 2011 4:18 am
Facebook: None
Location: Iowa
Status: Offline
1st of May turkey hunting.
You can fool some of the bucks, all of the time, and fool all of the bucks, some of the time, however you certainly can't fool all of the bucks, all of the time.
Posts: 9657
Joined: Tue Jul 20, 2010 12:54 pm
Location: S. NH
Status: Offline
Don't know about any longer but have had a pic early March with antlers.
[ Post made via Android ]
Expect the Unexpected when you least Expect it

...
500 Club
Posts: 6190
Joined: Wed Feb 17, 2010 1:11 pm
Location: MidMichigan
Status: Offline
I can't say for certain, but bucks in suburban areas that ALSO have less stress than other deer seem to hold their racks longer. I consistently see bucks holding their racks later in a city I spend a lot of time in- the same goes for some large, fenced in properties in my area owned by corporations and such. By less stress I refer to low to no hunting pressure and abundant food supplies. A friend of mine monitors these bucks on private corporate security cameras, and they sure do hold their racks quite late. The city bucks in my area go from bird feeder to bird feeder and chow, they also get fed at numerous homes.

I was at one home where the elderly lady asked me if I wanted her to call in "her" big buck, for me to see? "Huh?" was my puzzled response. She led me onto her deck out back and called, "here, bucky bucky bucky!!" I thought she had lost it and that a trip to the nearest mental health facility may be needed... when out jumps this big fat 8 point from out of the bushes! It trotted up to her and ate bird seed from her hand, while the police, fire fighters and I snapped pics with our camera phones... wow! It was a free ranging buck, too... like I said, low hunting pressure and ample food.

We commonly see bucks holding their racks into April, and sometimes a little later. It sure seems that "low stress" and "good food" helps them hold a bit longer than most whitetails...
www.stealthoutdoors.com
Posts: 1179
Joined: Tue Jun 08, 2010 1:23 pm
Status: Offline
SB that I'd crazy!
[ Post made via iPod ]
Posts: 191
Joined: Sun Jun 05, 2011 9:45 am
Status: Offline
my entire county is urban-suburban and about 85%+ bucks have dropped.
maybe its because they are HEAVILY pressured. from hunting and shed hunting.
you basically have to catch the antler falling off their head if you want to be successful.
[ Post made via Android ]
[ Post made via Android ]
Posts: 5
Joined: Tue Feb 28, 2012 12:50 pm
Status: Offline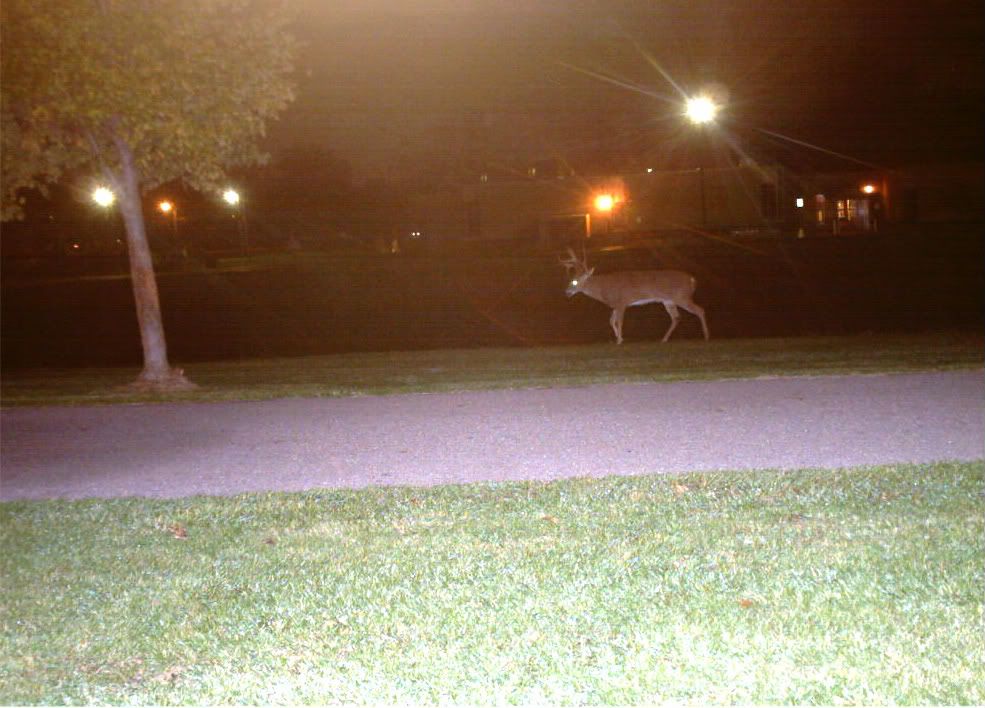 TY you all for the great info. Here is the only pic i have of the beast.
Posts: 455
Joined: Wed Dec 28, 2011 4:16 pm
Location: Southern Maryland
Status: Offline
Sorrell - Awesome picture.

To answer your question in your original post, suburban bucks typically have less food available to them due to higher deer densities. Deer in rural/agricultural areas have better food sources and more easily accessible and available food. Hunting pressure is important, but not as important as physical health. Yes, I know, some will say that stress adversely affects a whitetail's physical health - which is to some extent true - however, the physical stresses placed on the animal due to overpopulation and high deer densities are much more harmful.

I hang out with a group of guys that are wildlife and whitetail biologists here in MD. Just about every facet of their lives - other than family - revolves around whitetails. They do controlled shoots all across the state in park areas and other private/public areas where the population has grown to unhealthy levels. To give you an idea, they will kill 100+ deer off a single golf course in a single year, in a single shoot, year in and year out. I haven't heard of any antlered bucks being shot in the past week or so by them.

But, in the rural/agricultural areas here, less than a week ago I ran out a group of about 40 deer. Plenty of them were bucks, and I couldn't identify even a single one-antlered deer. Almost all of the healthy bucks are holding tight.

These are just my opinions/experiences with this. I got about 70+ sheds so far in 2012, and I would say 40 something of them are old antlers. Most deer haven't dropped yet, and it is clearly already getting green out here.
---
Users browsing this forum: No registered users and 1 guest